Wazifa For Marriage Soon - Jald Shadi K Liye Wazifa
شادی کیلئے وظیفہ
Wazifa For Marriage Soon
Everything sounds best at its proper time. In the same way, the marriage done at right time, proves to be a good and happy marriage. Besides doing other things, you can also read the Wazifa for marriage soon. You can perform the Wazifa for marriage either by reciting the names of Allah or a complete Surah from the Holy Quran. It is up to you whichever way you prefer... Read More...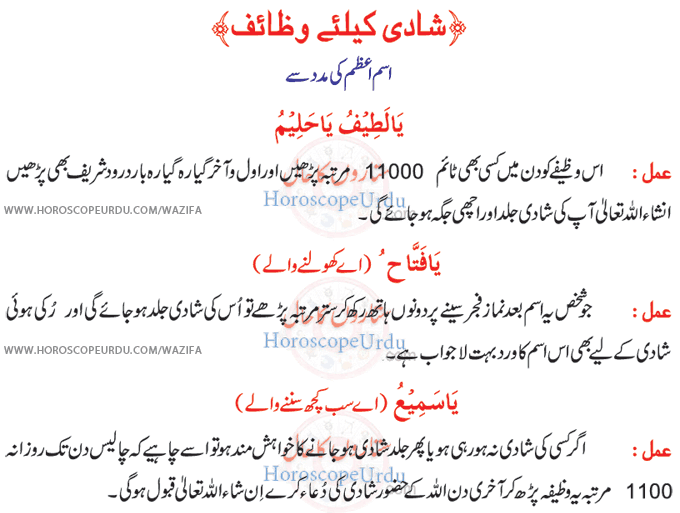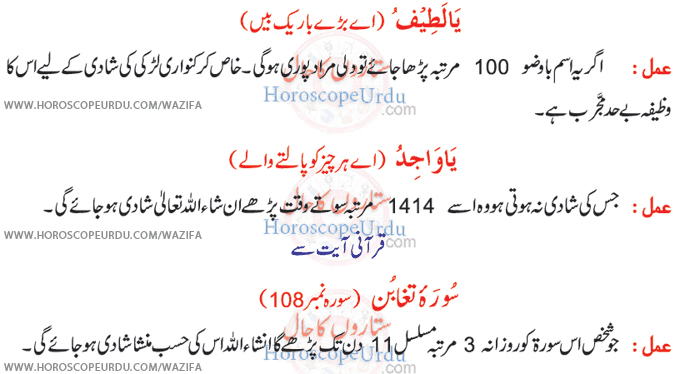 Wazifa For Marriage Soon
Marriage is not just the name of a sexual union for giving birth to children. It is a sacred passion. Maintaining a happy relationship with your spouse is a great virtue in the eye of Islam. A good marital relation not only brings peace of mind but also triggers mutual cooperation between the husband and wife for prosperity in the home.
By reciting the Wazifa "Ya Lateef; Ya Haleem" for 11,000 times along with Darood Sharif at any time of the day, you will soon meet your future life-partner. If not so, you need not be disappointed and keep on praying to Allah for help. He will soon answer your prayers with a better-than-expected reply.
Another benefit of reciting the Wazifa for marriage soon is that you will have a happy relationship with your spouse and it will be lasting for life. It is because when you start something with the name of Allah, He is always with you for help as and when required.