Wazifa For Hajat in Urdu
ہر حاجت پوری ہونے کا وظیفہ
When your rightful and legitimate needs are not being fulfilled, you have to pass through a very painful situation. The condition becomes even worse when people turn deaf ear to your pleas and requests. In the state of complete hopelessness, people finally turn to Allah and here is Wazifa for Hajat for them... Read More...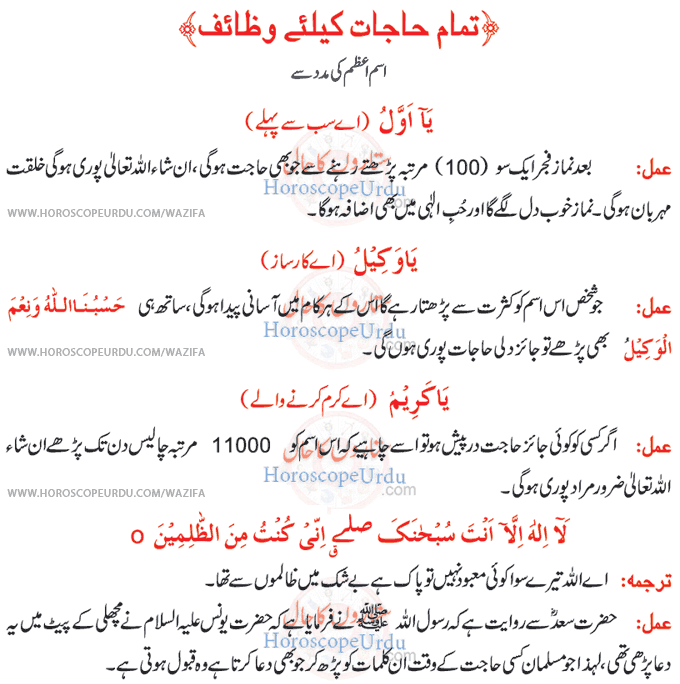 Wazifa For Hajat in Urdu
If you recite the Wazifa for Hajat on regular basis, Allah will make provisions for the fulfilment of your rightful needs. Money will come through the ways and means you will not be expecting or you won't understand.
Sometimes, it may seem to you that your prayers are not being answered. In such a situation, there may be some weakness on your part. Allah always answers the prayers of those who do no harm to others and pray with sincerity. Meanwhile, you also need to make effort for that. In fact, you will get whatever you make effort for.
Allah says in His Holy Book Quran:
"There is nothing for man except that he strives for."
The verse obviously indicates that you will get whatever you strive for. However, sometimes there may be hurdles in the achievement of what you are making effort for. For the delay, there is always the wisdom of Allah involved.
Wazifa for Hajat can remove hurdles in the fulfillment of your needs. This Wazifa involves the recitation of the Great Names of Allah, verses from the Holy Book or complete Surahs. You can go for any of these options. It's all up to you.