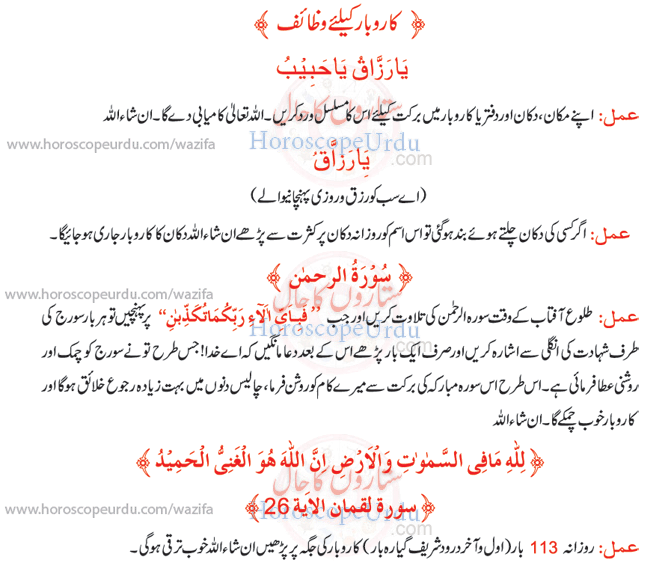 Wazifa for Business
Though involving risk and stress, business is the promising and preferred source of income for a large population in the world. While doing a job, you get only a fixed amount that has been mutually agreed between you and your employer. On the other hand, through a business, you can earn many times more money with the same or even less amount of work. But, there are also the chances of suffering from a loss. In case of huge losses, you may become bankrupt or your company may go into liquidation.
There is a famous quote:
"Well begun is half done."
As the quote testifies, if your business gets a good start, it is bound to fetch success in a short time with smart effort. But how to give your business a good start? The best advice, in this regard, is to recite Wazifa for business. The Wazifa for business can be done through either a Hadith or a verse from the Holy Quran. Meanwhile, you also have the option to do rehearsal of one or two of the beautiful names of Allah Almighty.
"Razzaq" and "Habib" are the beautiful names of Allah Almighty which mean "Provider or Sustainer" and "Beloved", respectively. So, you can recite "Ya Razzaq; Ya Habib" as the wazifa for business. It will bring blessings and prosperity for your shop, office, trade or other type of business. You need to recite it as many times a day as possible.
In case, your shop stops giving profit, you should rehearse "Ya Razzak", and its profit giving capacity will not only be restored but also increased. Just do it with full confidence and faith in Almighty Allah.
Another wazifa for business is to recite verse 26 of Surah Luqman one hundred and thirteen times a day along with the recitation of Darood Sharif eleven times. However, you need to do this wazifa at the business spot or location to get the best results.