Dhul Jalaali Wal Ikraam
َذُوالْجَلاَلِ وَالإكْرَامِ
Dhul Jalaali Wal Ikraam in Meaning
It is Allah who is a majestic and glorious being, Zul-Jalaali-Wal-Ikram. Throughout his life, he has been the source of all honor and glory. Exaltation belongs to Him and he cannot be denied...Read More...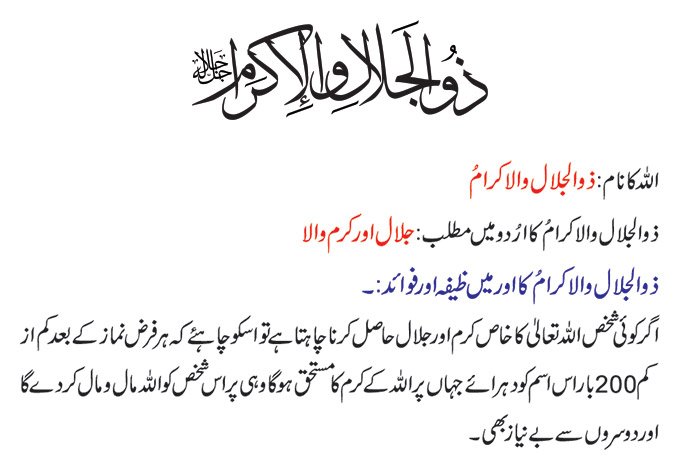 In the Qur'an:
We live in a time when many things have progressed and it is obvious that things can still get better, but the words of the Qur'an are still enough to guide people at any age and at any time. Let us read the verses which explain this name's meaning.
O you who have believed, bow and prostrate and worship your Lord and do good – that you may succeed. (Quran 22:77)
And there will remain the Face of your Lord, Owner of Majesty and Honor. (Quran 55:27)
It is a way of remembering Allah Almighty in difficult times, a blessing that a Wazifa of this name can bring to you. Let's see in what ways we can have the benefits from this name.
Wird O Wazifa:
People in tension and problems need hope, and so they turn to religion and other things that they can associate with hope. This has been the custom since ancient times. The names of Allah Almighty are also a true source of hope, and they work very well to instill hope in the hearts of believers. The one who remembers Allah will also experience peace and comfort in his life. Besides this, reading this name also offers the following benefits.
Be Rich:
Today, money has become a panacea to all problems, and it is the best tool you can have in your pocket to deal with life's most critical challenges. By reading the name over and over again, you will see your savings accrue. Take a time to read the name of Allah's Majesty with your whole focus, interacting with the meaning given above.