Meaning of Al Samad Name of Allah in Urdu and English
الصَّمَدُ
Meaning of Al Samad Name of Allah in Urdu and English
Al-Samad is another beautiful name of Allah. Meaning is signified in the following points.Read More...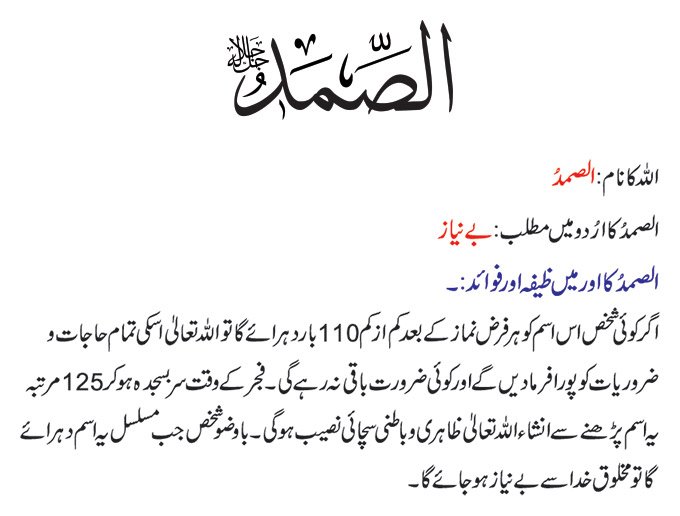 The Eternal
The Independent
The Master who fulfils needs.
Thud It is Allah who, in times of adversity, is the one whom we seek refuge in. Every need is satisfied by Him because He is eternal.
Through this Wazifa, you can achieve various comforts and benefits. From the Almighty, readers receive mental blessings. This name has been explained in the following sections.
According to the Qur'an:
The name is understood to have the following meanings in this verse.
Yes. Indeed, He is above all things competent. (Quran 46:33)
Say, "He is the one able to send upon you affliction from above you or from beneath your feet or to confuse you (Quran 6:65)
To focus on the meaning of the wazifa in conjunction with reading the wazifa is necessary to see its meaning from the Qur'an first.
Wird O Wazifa:
Wazifa and Wird help us in times of trouble as well as in achieving our aims. Wazifa is a call that we make to our god to help us in difficult times. Following are some benefits that you can get from this Wazifa.
To Get Wealth:
In order to have all the top conveniences of this world, wealth is necessary, and Allah does not like the person who begs, and he loves the worker above all, so we should ask him to fulfil our needs instead of anyone else. In your loneliness when you read it, it will gradually fill your needs.
Additionally, the website provides information about many other names of Allah Almighty that can be made effective use of in wazifa, as well as information on how to use them effectively.